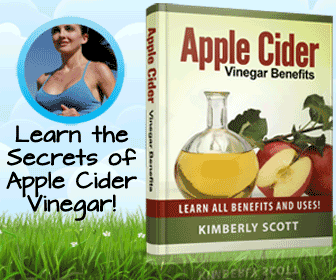 For centuries people have used Apple Cider Vinegar for natural beauty, health remedies, and around their home.
We compiled a list of our favorite ways to benefit from apple cider vinegar, and invite you to leave your comments on some of your favorites too.
Apple Cider Vinegar for Natural Beauty
Reduce or Fade Age Spots – Before bedtime apply apple cider to age spots with a cotton ball.  
Whiten Teeth – To remove stains, rub apple cider vinegar directly on teeth. It's not recommended that you use this on a regular, frequent basis as the acids can harm tooth enamel.  You can also dilute apple cider vinegar and use as a mouth rinse to whiten teeth. 
Freshen Breath – Swish apple cider vinegar in your mouth to reduce plaque and bacteria while freshening your breath. Be sure to rinse with water afterwards to avoid damaging tooth enamel. 
Skin Toner – Mix 3 parts water to 1 part apple cider vinegar and apply with a cotton bad to balance skin pH, reduce oily skin and minimize pores.  
Dandruff Treatment – Mix half water, half apple cider solution in a spray bottle. Apply to hair, and leave in for a few hours before rinsing.  Repeat a few times every week.  
Natural Deodorant – Neutralize body odor by applying under your arms.
Apple Cider for Natural Health

Detox Bath – Moisturize your skin and draw toxins fro your body at the same time by adding 1/4 cup apple cider vinegar to your bath water.  
Weight Loss – Apple cider vinegar can help weight loss by increasing fat burning metabolism, and decreasing your appetite.  I like to start my morning with a cup of warm water, the juice of a lemon, a tablespoon of apple cider vinegar, and some sprinkles of cayenne pepper. 
Sunburn Relief – Apply apple cider vinegar to a cotton ball, and dab the sunburned area to help lessen the effects of blistering and peeling. It will also help soothe the pain of the burn. 
Leg Cramps – Before bedtime drink a glass of water mixed with 2 tablespoons apple cider vinegar to lessen leg cramps.
Foot Fungus Remedy – Apply apple cider directly to the effected area, or soak your feet in a large bowl, bucket, etc with water and 1 cup of apple cider vinegar.  
Minor Abrasions and Cuts – Use a cotton ball soaked in five parts water to one part apple cider vinegar.  
Remove Warts – Soak a cotton ball in apple cider vinegar, place on the wart, and secure it with a band aid.  Reapply every day until the wart comes off. Continue for a few more days to help prevent it from returning.   
Sore Throat Relief – Mix 1 tablespoon apple cider vinegar, 1 tablespoon raw honey, and a little cayenne pepper together. Eat small amounts periodically for natural relief that really works. If you're really brave, I also add a clove of minced garlic to mine. A few years back I can down with the flu, and this remedy helped me recover quickly.  ** Seek medical care when dealing with the flu, it can rapidly turn deadly!
Apple Cider Uses Around Your Home
Toilet Cleaner – Pour a 1/2 cup of apple cider vinegar into the toilet bowl, and leave overnight to clean the toilet. 
Unclog Shower Head – Remove shower head and place it in a bowl with enough apple cider vinegar to cover the part of the shower head with the holes in it and soak it overnight. 
Deter Cats from Urinating – Fill a spray bottle with water and 1/4 cup of apple cider vinegar. Mist areas of carpets, floors and upholstery where you want to deter your cats from using as a litter box, or sleeping.
Window Cleaner – Fill a spray bottle with water and 1/4 cup apple cider vinegar to clean mirrors and windows streak free.
Flea Repellent – Mix half apple cider vinegar and half water solution to rub onto your pets skin and fur to repel fleas. Repeat every few days until the fleas are gone.  
Apple Cider Vinegar in the Kitchen
Clean Produce – Apple cider vinegar can help remove some of the effects of pesticides, dirt, and insects by rinsing your produce in a gallon of cold water with 4 tablespoons apple cider vinegar.
Marinade for Meats – I use olive oil and apple cider vinegar to marinate beef or chicken every time!